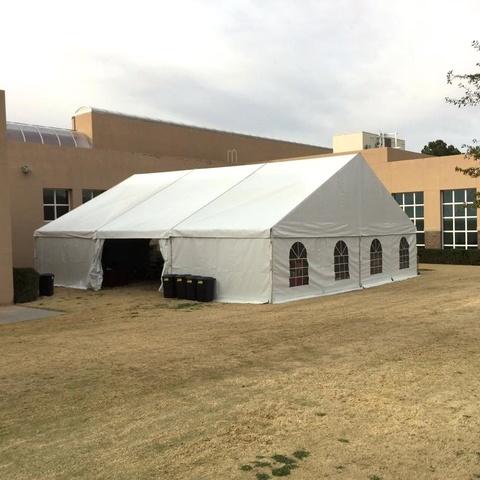 40 Foot Wide Tents
Shown in this picture is a 40 ft. x 45 ft. Tent with Solid and Window Walls.
Sizes Available in 40 Foot Wide Include: 40x45, 40x60, 40x75
Tip: If using "Add To Quote" please add this information under the "Customer Comments" section so we can better assist you with sizing:
What is the estimated number of guests in the tent?
What types of activities will be in the tent? (i.e.,reception, presentation, luncheon)
Will a buffet, dj, ceremony, bar, etc be in the tent?
Will we be able to "stake-in" to the ground?
What type of ground?
Can we set up a day early if needed?
Would you like us to provide a quote for walls, lighting or other tent accessories be needed? other accessories include heating, cooling, tent wall liners, leg drapes
Do you already know what table types/sizes you will be using? The type of tables, if any, and the configuration of chairs will change the size of tent needed.
Other factors such as time of the event, duration, anchoring rules and take-down time may change the quote.